Celebrity hairstylist Tiffanie Dixon grew up mingling with young Hollywood while attending Beverly Hills High School, but for lessons in glamour, fashion and style, she drove to the Crenshaw District, where she later enrolled at the historic Universal College of Beauty.
Dixon would go on to become Whitney Houston's longtime hair stylist, graduating in the same 1991 class with Kim Kimble, whose work with stars like Beyoncé led to her own multi-season reality TV show.
For four generations, over nearly 100 years, the family-owned Universal College of Beauty has turned out star stylists and beauty gurus by teaching the art of beauty, hair styling and cosmetology to aspiring entrepreneurs, launching thousands of careers for Black working professionals throughout Los Angeles and beyond.
Throughout its long life, the school has weathered many ups and downs, including periods of recession, civil unrest and, most recently, the pandemic. It was during this last challenge that the college connected with Destination Crenshaw, which connected it to a microgrant program to help pay taxes. The assistance was provided through DC Thrive, a program of DC that supports entrepreneurs throughout the Crenshaw area.
"I am very grateful for that support," the school's director and fourth generation operator Jasmine Williams says of the 1.3 mile-long outdoor art gallery and reparative project that aims to place a cultural stamp of Blackness on the Crenshaw neighborhood. "I'm in love with Destination Crenshaw."
The connection to Hollywood has always been strong: earlier graduates tended to legends like Lena Horne and Etta James (who knew better than to trust their professional look to people unfamiliar with darker skin and curly hair).
"Going to Universal gave me a sense of home," Dixon says. "They gave me what I needed for my culture."
Indeed, creating her own home in the world of beauty is what inspired founder Hazel Williams to launch the family enterprise in 1929 after a white-run cosmetology school refused to admit her, according to her grandson and the school's current owner Kenneth Williams.
Inspired by Madam C.J. Walker, the first female self-made millionaire in the United States according to the Guinness Book of World Records, Williams also created her own hair care products, in addition to founding the school.
Students preparing for a recent mannequin hairstyling competition at the Universal College of Beauty.
In 1966, when the business was in need of capital, Martin Luther King Jr. persuaded Kenneth's father John Williams, with whom he was friends, to test the federal government and seek support. Williams did, applying for, and receiving, what would become what is believed to be first-ever loan to a minority-owned company made by the U.S. Small Business Administration. Dr. King also helped connect the school to financial aid for students.
"That's the reason we are here today," Williams says of the $25,000 loan the school received. Dr. King also inspired the family to change the school's name from Henrietta Beauty School (named to honor the woman who provided the original loan), to something more, well, universal.
"He wanted it to be named for everybody," the school's current director Jasmine Williams, Kenneth Williams' daughter, says, looking at the large photograph of the civil rights leader shaking hands with her grandfather displayed at the college.
Since then, the school has helped stylists to pursue careers that are both community based and provide them with a high degree of self-determination.
"Here's an occupation where someone can set up right where they live," Kenneth Williams says. Stylists can design their own schedules and control their own destinies, he points out, more so than people traveling outside of their communities to work for others. He added that in addition to its conveniences, careers in beauty are fulfilling in other ways: "Relationships that are built in salons, they last years and years."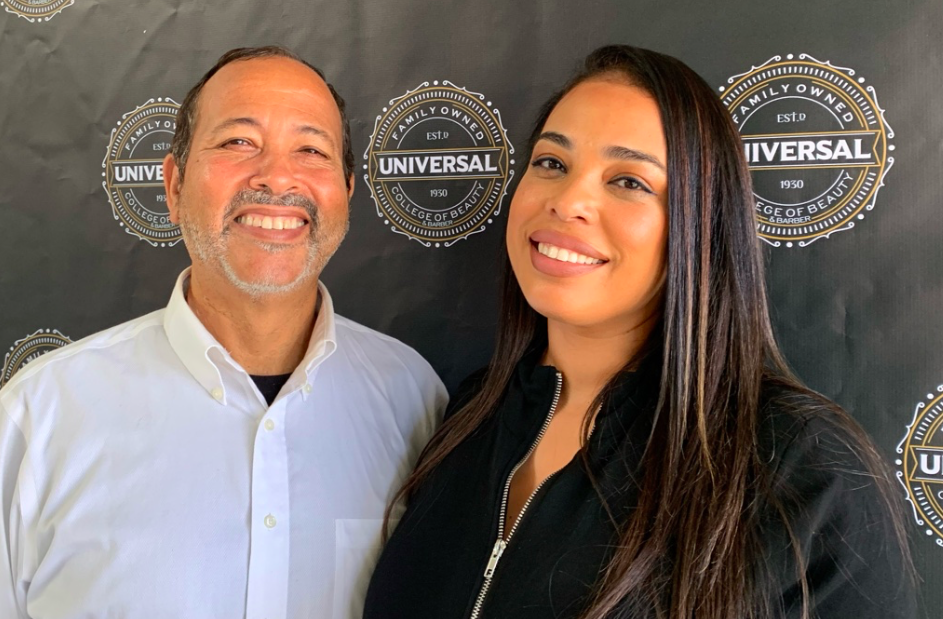 Kenneth Williams and his daughter Jasmine Williams represent the third and fourth generation owner-operators of the 93-year-old Universal College of Beauty.
Throughout the generations the college has both thrived and survived. For years, it operated campuses not only at the current location, but in downtown Los Angeles on Vermont Street and another halfway across the country in North Carolina. 
In 1992, when South LA burned during the Rodney King uprising, Jasmine Williams remembers the night her father ran out of the family home to the college, bent on persuading rioters to spare its Vermont Avenue location. He succeeded, but a nearby building caught fire and those flames spread to the college, burning it to the ground, too.
And during the sweep of national and local tragedies came personal ones.
On the eve of the school's 1991 graduation, a hit-and-run-driver struck and instantly killed John Williams' wife Joneal Williams, then the director at the school, along with Kenneth's half-brother.
Years later, John Williams closed the North Carolina campus. Although the family rebuilt the Vermont location, it later consolidated to one location.
The Covid pandemic, however, has presented the most recent existential threat: How does an institution that teaches intimate hands-on artistic skills of cosmetology — the craft of styling hair — survive virtualization?
"I had zero percent confidence that it would work," Kenneth Williams says today. "I was 100% wrong about it. We had celebrity hair stylists come onto our classes via Zoom. We had a phenomenal time on Zoom during the pandemic."
Universal College of Beauty Director Jasmine Williams with a portrait of her grandfather, John Williams, the college's second generation owner, shaking hands with his friend Dr. Martin Luther King Jr.
Today, the college is doing well enough, Kenneth Williams says, that next year it plans to add courses for barbers and aestheticians and reintroduce courses for manicurists.
The father gives all the credit to his daughter who, he says, successfully moved the school's classes online. Jasmine Williams, in turn, gives all credit to her faith. For the past 10 years, she says, class has begun with prayer.
"I truly attribute that to why we are still here today," she says.
On a recent morning in the school's main industrial looking teaching space, members of Howard University's Kanye West Choir rocked back and forth singing about triumph on a large screen TV mounted high on a wall. The mood was upbeat, even giddy.
The students presented elaborate hairstyles on mannequin heads, competing for a panel of judges, who paced back and forth scrutinizing the entries. The mannequin competition, a long-time staple of the school, is an exercise that once inspired Beyoncé's stylist, Universal graduate Kim Kimble, to "do more avant-garde hair," Williams told the students. "This is how you guys need to put yourselves out there."
Student LaNayja Nash, 19, whose mother and great grandmother also attended the Universal College of Beauty, with her second-place winning hair style during a recent class competition.
LaNayja Nash, 19, whose intricate handiwork took second place, said the school is a family affair not just for the extended Williams family, but for her, too.
"My mom and my great grandma all went to the school back in the day," said Nash, an aspiring hair stylist, clothing designer and photographer.
Jasmine Williams wants to fan the flame of that kind of ambition.
"The bible says without a vision we perish," she told the students, who listened, rapt.
She shared one of her own.
"My vision for the Universal College of Beauty is to continue its legacy of creating careers – not jobs – but careers for people in the community," she says. "I am so grateful to be a part of my family's business. I've seen it change lives and I pray we will be able to continue to do so."
— by Ann Marsh