"As a woman, a Black woman, she wasn't supposed to be here. She wasn't supposed to own anything."
That's Bronwyn Hardy speaking about her mother Virgie Huddleston, whose salon Vergee's Palace de Bella Donna, has been serving South LA looks (and mentoring folks in Black hair care) for decades now. Ms. Hardy has taken over the salon from her mother – who retired a few years ago – but she remembers growing up in the shop by her mother's side. It was there that she honed her skills as a stylist, learned the fundamentals of entrepreneurship, and most importantly, came to understand the value of community.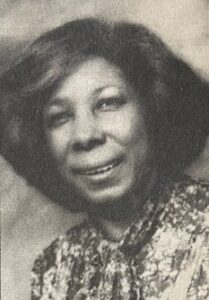 "I've been in this shop since I was ten," Ms. Hardy said. "This is my home and the home of the community. Coming here isn't just about getting your hair done. When you come to Vergee's you end up staying all day because it's a family. We bring people together."
When the expansion of the Metro's Crenshaw line was first approved, Ms. Huddleston was wary, seeing the train as a precursor to displacement for residents and small businesses like hers. While her daughter shared her reservations, Ms. Hardy also saw an opportunity for the renewal and growth of the family business and the Crenshaw corridor as a whole.
"The Metro line is going to bring new people to Crenshaw," she said. "We can't fight that, but we can take advantage of it through entrepreneurship and ownership. And we can create real economic good for our community."
That is what Destination Crenshaw is doing. Through our DC Thrive initiative, we provide businesses adjacent to the project's 1.3-mile site with the resources and support they need to prosper. And Vergee's is no exception. DC Thrive connected Ms. Hardy with LISC LA and helped her receive two grants that enabled her to make repairs and begin renovations that bring Vergee's into the 21st century – in style.
Ms. Hardy envisions that Vergee's won't just be a space for hair care, but for other entrepreneurs in the community who need space to incubate and grow their businesses from the ground up. To that end, she plans on renting out space to new business owners.
As for her hopes for Destination Crenshaw, she is excited to see Black LA's cultural heritage being celebrated and an opportunity for collective uplift of the community.
"This expansion hasn't been perfect, but it can be an opportunity for us," Ms. Hardy said. "We just have to stick together as a community and family.
You can visit Vergee's Palace de Bella Donna at 4900 Crenshaw Blvd, Los Angeles, CA 90043.