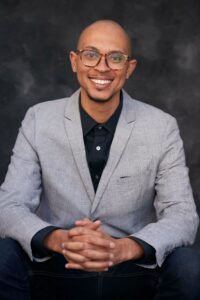 As president and COO of Destination Crenshaw, part of my job is to meet with the Crenshaw community – neighborhood residents, small business owners, block clubs, local advocates, schools, churches and pretty much any organization that wants to know more about our project.
What I find in these conversations is that while people have heard about the public art we'll be bringing to the community, they are less aware of our economic program for Black-owned businesses, called DC Thrive.
We know that an economic agenda is essential if Destination Crenshaw is to succeed in its mission and purpose: creating a project that reinforces permanence  for Black Los Angeles. As we continue to forward during the ongoing pandemic, Destination Crenshsaw's economic component has become even more vital. So as we think about what economic recovery looks like for Los Angeles, we know that the hardest hit communities must be put first.  We also must take action that moves  us beyond the place we were before the pandemic. We must be intentional. We must repair the damage done, not only during the pandemic, but by decades of disinvestment. We must be unapologetic about demanding the support our community needs. We must Build. Back. Black.
In this newsletter you'll see some of the work we're doing to do just that by making Destination Crenshaw an economic engine for our community — with a special focus on our ongoing support for small businesses, artists, and entrepreneurs.
In fact, we define Destination Crenshaw as a reparative development project designed to repair and revitalize the Crenshaw corridor, not as a project solely dedicated to art. This is a new form of community development and improvement that we believe will become a model for future infrastructure and equitable development projects in black and brown communities both here in Los Angeles and beyond.
Black art, Black design, and Black culture are crucial to who we are as a people, but so is Black entrepreneurship, self-determination, and financial empowerment. We are working to support these ideals, to build a permanent future for Black LA that helps our entire community thrive.
Peace,
Jason