When Darren "Buttah Man" Brin moved to L.A. from the U.S. Virgin Islands to pursue a career in comedy, he felt confused. Where, he wondered, were all the Black people? It's a common question for transplants accustomed to Black urban centers such as Atlanta or Washington D.C.
He got his answer the day he made a fortuitous Uber Eats delivery to The Metaphor Club, a Black-owned coworking space that is part club, part cultural center and a gathering spot for artists and entrepreneurs on Crenshaw Boulevard.
Brin joined and now goes there to work on the stand-up routines he performs at The Comedy Store and the Improv that explore the tension in his former life as a closeted gay man hosting an MTV hip hop program.
What he and many other Black professionals and creatives have discovered is that they get something vital by regularly coming together to work side-by-side.
"It is the community I have been looking for," says Brin, who describes himself as mid-fortysomething. "I get inspired here. The energy of the other creative people here bounces off of you."
Comedian and producer Darren "Buttah Man" Brin develops ideas and produces social media content while working out of the coworking space The Metaphor Club, under a portrait of the young Obamas.
This is exactly what The Metaphor Club founders, four high-achieving brothers from the same fraternity, Alpha Phi Alpha, set out to create when they founded the club in 2018.
The Covid pandemic presented some challenges, but even though its doors closed over two stretches, 90 percent of members continued to pay their membership dues as a sign of support. Also, Lendistry, a partner to Destination Crenshaw's economic development arm, DC Thrive, provided a loan to the club during the pandemic to help defray some expenses.
"This is the one place where when you walk in the door, you can exhale," says cofounder Lawrence Ross, 56, a prolific author and screenwriter, "where everyone is welcoming you, people care about you and they are rooting for you."
That's true for everyone at the club, starting with the Black members it was created for, but including a handful of white members and people from all races and backgrounds, according to Ross.
"We are not really analogous to WeWork," Ross says. "This space is much more about community. People really do know and like each other."
The club has hosted events featuring elected leaders and celebrated writers such as Walter Mosley and then-Congresswoman Karen Bass, before she became the mayor of Los Angeles, and Hollywood power brokers. It also sometimes supports local unhoused people by paying them to help out with maintenance.
Metaphor Club cofounders Lawrence Ross (left), a screenwriter and author, and Gerald Rawles, a film producer, commissioned an Afrofuturism-inspired mural by the artist Kayla Shelton to adorn the back wall of the club.
Ross says he and his partners consciously set out to raise a big tent in the community, big enough to welcome in everyone looking for a supportive community. When you do that, he adds, "people will patronize you."
The co-founders include Lawrence Gilliam, 52, solutions architect for a software firm; film producer Gerald Rawles, 49; and Jimar Wilson, 45, a nonprofit executive and educator in affordable housing and community development.
"When [Ross] explained the idea to me, and what it would take to get up and going, I jumped on board," Rawles says.
Ross was inspired by a visit to Uncle Bobbie's Coffee and Books in Germantown, the historically Black neighborhood in Philadelphia.
"I went there and I just loved it," Ross says. "I came back to L.A. and decided that we wanted something like that on Crenshaw…. a utopia on Crenshaw."
Ross, who grew up in Inglewood, lives a short walk from the club, as does Gilliam, and Wilson grew up nearby. Rawles was raised in New Jersey but has worked and raised a family in L.A. for the past 18 years.
After finding the space — formerly the Jamaican restaurant Coley's Kitchen that makes a brief cameo in the film "Boyz N the Hood" — they gutted it and filled it with farmhouse tables, a huge wall covered in chalkboard paint and comfy couches. Over one hangs an oversized photograph of Barack and Michelle Obama sitting cheek-to-cheek on a couch, early in their relationship.
It's an apt visual message: Let's get comfortable, put our heads together and see where we can go.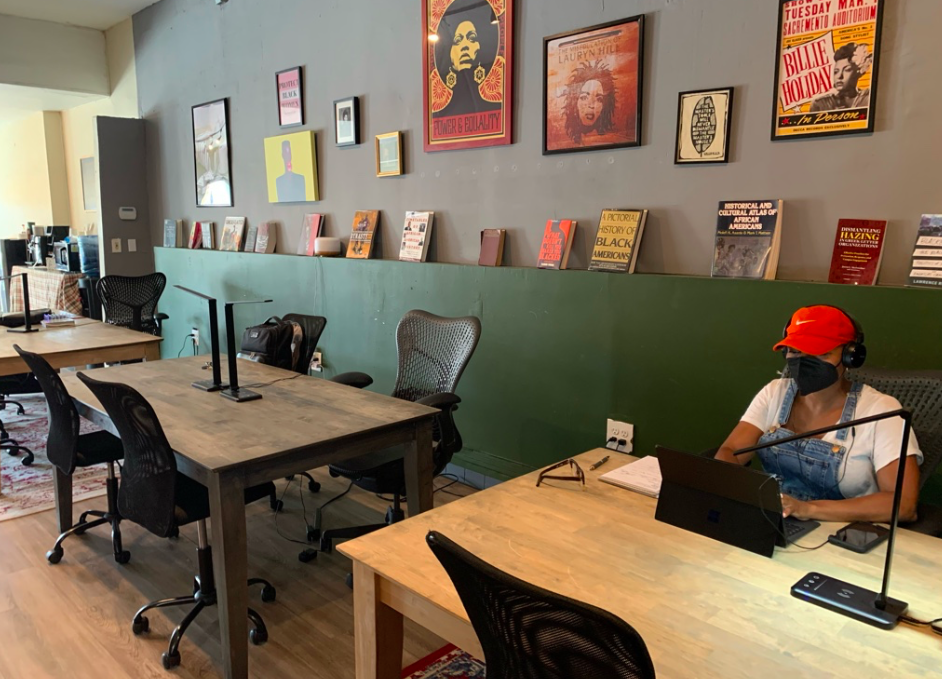 His face illuminated by a ring light, J. Black, 39, took a Zoom call last summer in one of the club's two privacy booths where members can make phone calls and attend virtual meetings without bothering other members. A talent manager, Black said the call was with ESPN regarding a documentary about one of the athletes he represents.
Black, who grew up in the area, moved away to Tujunga for the more affordable property values to raise his five children. But he enrolled all his children in Crenshaw area schools and makes the 50-minute drive in with them five days a week.
He tried working at Starbucks but said it wasn't a good fit.
"When I came here I was like, 'This is where I'm supposed to be.' I've been able to cultivate some relationships I feel like will last for a long time both personally and professionally. I like the fact that it's right off of Crenshaw."
In fact, the club is across the street from his longtime barber and not far from the church where his father served as pastor at New Ground Harvest Church for 20 years.
Metaphor Club cofounder Gerald Rawles at work in front of the chalkboard wall that contains announcements of upcoming events and inspirational messages.
The neighborhood is also terra cognita for Kelli Kemp, 45, who drives in from West Athens to drop off one of her two children at the nearby aerospace magnet school. Her parents still live near the Crenshaw and Slauson intersection. Ever since she left the corporate world to start an alternative health magazine, called Holistic Californian, the club has provided her with a supportive space from which to run her company.
"It's convenient, the members are cool and the owners are cool," Kemp says.
They have given her leads on video editors and videographers. "Whatever you need," she says, "someone there knows someone who can help."
Over the summer, Kemp attended a movie night at the club, which screened the 1997 cult classic "Love Jones." She stayed after, noshing on hors d'oeuvres and sipping drinks, dissecting various scenes and the film's impact on Black cinema with a group of about 30 viewers who eagerly reminisced. Cinephiles are doubly welcome. Ross teaches introductory screenwriting classes and the club hosts monthly table reads for four to six writers, open both for members and to the public, looking for feedback on their work.
The club has ambitions; they include expanding programming like the movie night, doubling the club's membership and perhaps franchising out to other neighborhoods.
The club offers another unusual sanctuary for over-tired professionals: a place to nap whenever they need to. A short while before his ESPN call, Black did that, his head lolling back on an overstuffed chair. No one gave him a second look.
"If you need to stare at the ceiling and go to sleep, go ahead," Ross says, adding that "everyone here snores."
One member recently sold a show to a TV network, Brin said, and another snagged a prestigious position as a showrunner on a top show.
In an environment like this, Brin says, "you cannot help but be inspired to do more."
— By Ann Marsh