Destination Crenshaw has exciting news when it comes to funding for the project itself and our work to be an incubator for economic prosperity in the Crenshaw Community: we've secured millions more dollars that will be put to work building Destination Crenshaw and supporting our community.
Destination Crenshaw Secures Millions in New Markets Tax Credits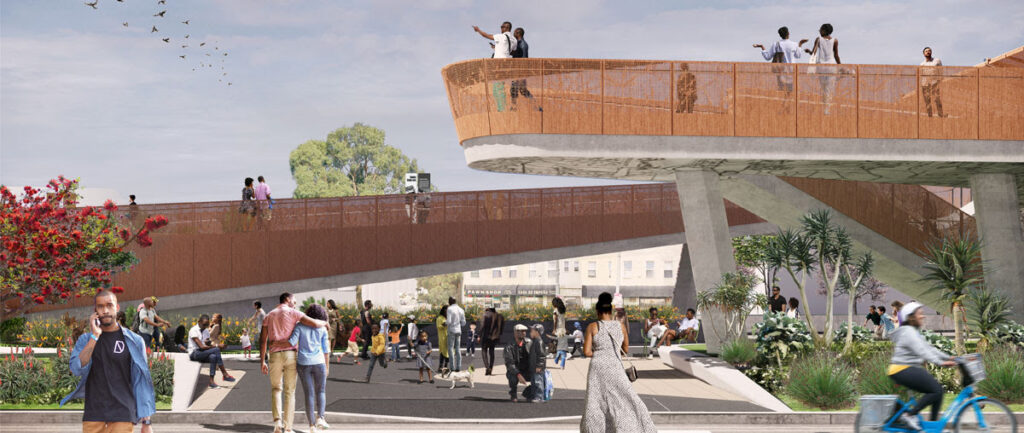 After undergoing an intensive, months-long "super-audit," Destination Crenshaw has secured $30 million in New Markets Tax Credits from our partners at US Bank, Lendistry, LISC, and AFL-CIO (Building America). In short, an NMTC investment means our local businesses will benefit from our lending partners investing their savings back into the community as new programs, loan packages, and other investments for new and existing businesses in our community. Destination Crenshaw itself will be able to put $6 million towards the construction of Sankofa Park, capacity building to accomplish our workforce development and DC Thrive programming goals and operational costs.
S. Mark Taper Foundation Awards $1 Million Grant To Boost Destination Crenshaw, Catapulting Historic Investment in South Los Angeles
Destination Crenshaw has been awarded a $1 Million gift from the S. Mark Taper Foundation to support the development of one of its parklets along Crenshaw and a sculptural work by world-renowned artist John Outterbridge.
This funding is a critical investment in the cultural infrastructure that will drive the Destination Crenshaw project forward. Paid over the next five years, Destination Crenshaw celebrates this long-term partnership to fund the construction, maintenance, and conservation of the 54th Street parklet.
Destination Crenshaw To Receive $6.5 Million In State Funding
Destination Crenshaw will receive $6.5 million in state funding thanks to the leadership of California Assemblywoman Sydney Kamlager who fought to have the project included as a priority in this year's budget. The funding will support improvements including the construction of Sankofa Park, new sidewalk treatments, street furniture, wayfinding signage, and public art commissions to update business facades and landscaping elements throughout the corridor.
LA County's Arts Recovery Funding
Destination Crenshaw was the recipient of a $12,000 grant from the Los Angeles County Department of Arts and Culture that was designed to support workers and organizations in the creative economy as they recover from the impacts of COVID-19. Destination Crenshaw will use the funds to power its mini-mural program, which invites diverse artists from the community to contribute original works that help beautify fencing along the project during its construction stage.