Walking through the Negro Leagues Baseball Museum in Kansas City, Missouri years ago, seeing the talent and accomplishments of Black athletes who had persevered against tremendous odds, Tunua Thrash-Ntuk was struck by a singular, new sense: of feeling seen and acknowledged.
"I had forgotten that we had history that was worth celebrating," she said.
When Destination Crenshaw is completed, she hopes the landmark will inspire a similar pride in youngsters growing up today in South LA. The project will comprise public installations by more than 100 Black artists, landscaping and beautifully designed community spaces between 48th and 60th streets along Crenshaw Boulevard. It is the largest reparative project of its kind in the country.
"Destination Crenshaw signifies to the community that, 'My God, they see me. I am acknowledged, I am celebrated,' and that certainly fuels community enthusiasm," she said. "Hopefully it also fuels the understanding and need to invest in the businesses that are there."
Thrash-Ntuk has long been one of South LA's most well known and effective advocates. She was also an early champion for Destination Crenshaw's support of local Black businesses through her work with the Local Initiatives Support Network (LISC).
She recently moved on and is now the new president and CEO of the Center by Lendistry, a Black-led nonprofit that provides support to businesses in underserved communities. With the Center, Thrash-Ntuk's work remains rooted in Los Angeles but gains national reach.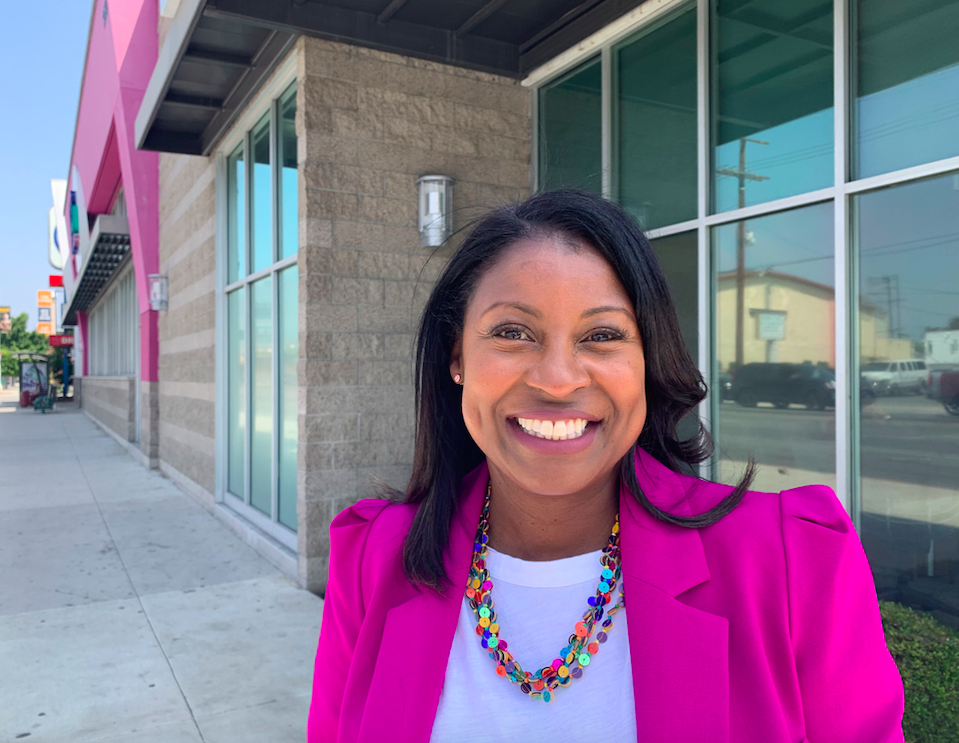 Tunua Thrash-Ntuk in front of West Angeles Plaza at Crenshaw and Jefferson. During her tenure as executive director of West Angeles Community Development Corporation, she led the development of the property anchored by Union Bank.
The Center is the nonprofit arm of the community development financial institution and financial technology venture, Lendistry. The powerhouse firm, also Black-run, has loaned more than $8.6 billion to small, mostly minority-owned businesses. The center provides enterprises with resources that range from educational opportunities and consulting, to securing financing through Lendistry itself, often through its partnership with the U.S. Small Business Administration.
Both Lendistry and LISC are financial backers of Destination Crenshaw.
"We couldn't have had better partners than Tunua and LISC," said Destination Crenshaw President and COO Jason Foster. "As soon as the pandemic hit, our focus expanded from construction and art commissions to providing emergency support to Black businesses along the corridor. And when we pivoted, Tunua pivoted with us. More than that, she helped make our pivot possible."
Today, DC Thrive, the business-support arm of Destination Crenshaw, works with dozens of businesses and local entrepreneurs, connecting them to resources and providing direct technical support. The program supported many local businesses throughout the pandemic, by helping them obtain PPP funding and resources from consulting and social media support to grants. DC is pursuing a 70% local hire goal for construction, while creating 60 permanent jobs in the process. Lendistry also is poised to help, through its capacity to provide loans to local businesses to help them purchase real estate where their companies are located.
"It's amazing that these businesses have [endured] through the process of construction of the Metro line – and the pandemic," she said. "The fact that we still have some of those businesses there is a true testament to resiliency."
Most notably, while at LISC, Thrash-Ntuk helped Destination Crenshaw secure New Markets Tax Credits through a federal program designed to stimulate business investment in underserved communities. LISC was one of four partners behind the allocation, including lead investor US Bank, Lendistry and AFL-CIO Housing Investment Trust/Building America CDE. The credits increase operating funds currently being used to employ Black workers on the project and DC's core team needs.
But supporting the South Los Angeles neighborhood where she was raised has been a constant throughout Thrash-Ntuk's professional rise.
Many will remember her from her days as executive director of the West Angeles Community Development Corporation, where she built affordable housing for seniors, led commercial development projects and supported local homeownership. Thrash-Ntuk also helped in the community effort to successfully lobby for a Metro stop at Leimert Park, along the long-planned Crenshaw/LAX train line.
For four to five years while serving as the Los Angeles chair on the Metro council, she strategized with community leaders about how to keep businesses operational during construction phases of Metro projects. She also supported LA City Councilmember Marqueece Harris-Dawson's vision for Destination Crenshaw.
"I took that passion for wanting to see something magnificent for the community in this part of the Crenshaw corridor with me when I went to LISC," she says.
At Lendistry, with its national focus, Thrash-Ntuk hopes to not only continue supporting Destination Crenshaw, but help similar reparative projects sprout up elsewhere.
"There are more communities and more organizations to inspire and support by creating more Destination Crenshaws all around the country," she says.
— By Ann Marsh